O lieb so lang du lieben kannst, a strong motto chosen from a poem by Ferdinand Freiligrath. It inspired Franz Liszt to write a song on these wonderful words. Both the song and the piano solo transcription made by Franz Liszt sound on this special release, the third one on The Valthermond Recordings.
The album presents a fine selection of recordings that Marion van den Akker and Rian de Waal made in Valthermond. The CD reflects a period starting in 2004 until Rian's death in 2011. The last three songs on the CD are dedicated to Rian and performed by Marion and Paul Komen.
Altogether a rich program and a reflection of the inspiration that Rian and Marion found in their concert hall in Valthermond.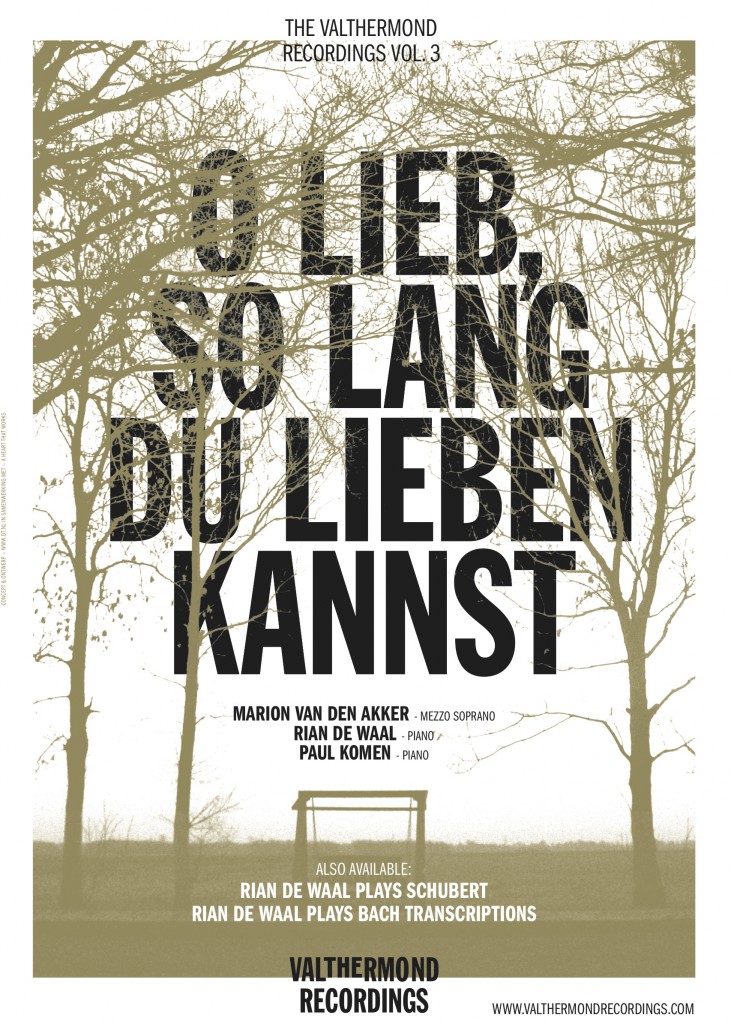 Alongside the songs by Claude Debussy, Henri Duparc and Franz Liszt you will hear three piano transcriptions of songs by Schumann and Liszt.  Rian de Waal was a true admirer of the virtuoso piano transcription and he wrote a book about this subject. These transcription recordings are part of the recordings that he made for his transcription project. The project will appear posthumously in 2013 as a book with accompanying CDs.
For more information about the label and the other releases in this series please visit www.valthermondrecordings.com
This release will be available autumn 2012.
Project info:
Recording venue: Concertboerderij Valthermond

Recording producer and editing: Daan van Aalst

Recording Engineer: Dirk Fischer (track 10-12)
Piano Technicians: Michel brandjes and Matthijs Jongepier (track 14-16)
Cover design: dT concept & ontwerp / A Heart that Works
EAN: 723385041252