In the summer of 2009 Pieter Wispelwey and Paolo Giacometti recorded a Schubert CD for Onyx Classics. Interesting enough; none of the pieces on the disc where originally written for Cello and Piano… And then they also decided to play on period instruments!
Well, let's start with the program:
FRANZ SCHUBERT (1797–1828)
– Duo in A for cello and piano D574 (arr. Wispelwey)
– Sonata in A minor for cello and piano D821 'Arpeggione'
– Fantasy in C for cello and piano D934 (arr. Wispelwey)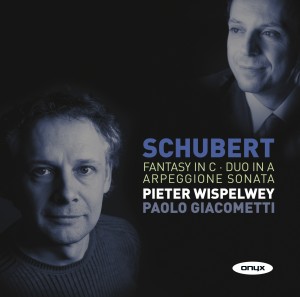 Pieter played on his Guadagnini (Parma 1760) with gut strings and Paolo used the very delicate Lagrassa (1815) piano from the Edwin Beunk collection. This piano was also used for their earlier recording of the Arpeggione Sonata (Channel Classics 1996).
"I don't do it too often, putting on gut strings and celebrating the delightful match of their colours with those of a Viennese fortepiano: denying myself the glossiness and comfortable reliability of steel strings and a Steinway, and instead enjoying the poetry and expressiveness – that specific mix of fierceness and delicateness – of the instruments, as heard by Schubert and his contemporaries. Nor, for that matter, had I ever thought I would dare to tackle the Fantasy on period instruments."
(Pieter Wispelwey)
Indeed, the Fantasy in C is a virtuoso piece and it seems to be almost impossible to play this violin sonata on the cello. It is not simply a matter of playing the violin part an octave lower because the cello can easily be overshadowed by the piano. Pieter's arrangement together with the elegant and almost fragile sound of the Viennese piano gave the recording of this sonata a very natural touch as if the piece was written for the cello!
"I found the Fantasy, especially, remarkably convincing in its new guise. The transposition to cello increases the difficulties of what is already a demanding work, and enhances the sense of virtuosity as Wispelwey triumphantly surmounts each hurdle."
(Gramophone magazine)
I recorded this CD using my High Resolution recording set. After years of hiring and borrowing equipment it was a great pleasure to work with my own recording set. As you can see on the picture below Pieter is sitting on a small platform that allows the sound to develop freely in the rather small hall.
(during the recording session in Eindhoven)
–

Recording producers: Daan van Aalst, Pieter Wispelwey
Balance engineer and editor: Daan van Aalst
Recording location: Muziekcentrum Frits Philips, Eindhoven, Netherlands
Recording dates: 7–9 July 2009
Cello: Guadagnini (Parma 1760)

Piano: Fortepiano: Salvatore Lagrassa, Viennese School, ca.1815 from Collection Edwin Beunk, Enschede, Netherlands
Piano Tuners: Carolien Dopheide, Edwin Beunk